Thames & Kosmos Science and Activity Kits
Limit 3 per customer
Hurry only 1 left!
add to cart
Your child can't just have a liberal art education. He or she has GOT to have a little engineering fun to round things out!
Twinkle, Twinkle, little lab
How I'm glad that you I had
Clearly then, I must now git
A Thames & Kosmos Stirling Experiment Set!
Olivia put down the paper and looked up at Noah's deep blue eyes. How could she tell him his poetry was … awful????
Noah eagerly handed Olivia another page. "Wait, wait, this one's better. Try this one.
There once was an engine assembled
When I saw it it made me a'tremble
I set up the mirror,
And said "Hey, everyone! Come here or
You'll miss out on what my engine does!
Olivia looked at Noah's soft brown bangs and long eyelashes and said nothing.
"See," Noah said. "I switched it up at the end. Unexpected, right? That's where genius lies. Read this one too, go on, tell me what you think."
O Earth lab!
Thy's sustainable
When confronted with thy
Experiment guide
I am not to be complainable
Olivia bit her lip and considered how nicely Noah was dressed. Maybe he chose that shirt himself?
"One more, before you say anything, one more!" Noah had the biggest, most handsomest smile as he held out the last page.
Candy Lab? I need not thine
Sweetness
And yet? The candy I can make
Neatness.
"See?" said Noah. "I was playing with the form there too. My mom says it's pretty good. What do you think?"
Olivia counted to ten and waited for the bell. Maybe she wouldn't have to answer him, if she were lucky.
Stirling Engine
Stirling Engine
Stirling Engine components
Stirling Engine Car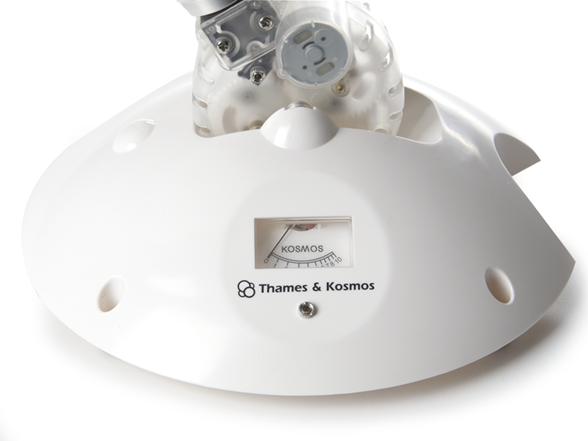 Stirling Engine Base
Candy Creator Lab
Candy Creator Lab
Candy Creator Lab
Sustainable Earth Lab
Sustainable Earth Lab Components
Features
Recommended Ages: 12 Years and Up
Choose from the following 3 kits:
Stirling Engine Car and Experiment Kit
Discover the Stirling engine, a simple, clean and efficient energy technology that is quickly becoming a viable source of electricity as the availability of fossil fuels declines. Like a steam engine, a Stirling engine is a heat engine that converts heat energy into mechanical work, usually to drive a generator that then converts the mechanical energy into electricity. Stirling engines are highly efficient, can operate very quietly, and can use many different sources of heat: combustion of fuels, nuclear fission, geothermal, or solar heat, as this model uses.
Exciting experiment kit teaches young scientists the fundamentals of physics, chemistry, solar power and how engines work
An innovative front-mounted Stirling engine with integrated generator produces electrical power
The Stirling engine can be heated with solar energy by using the parabolic mirror, or it can be heated with an alcohol burner
The home-made electricity is stored in a battery and used to drive the included electric car (battery not included)
The built-in meter can be used to take a reading of the electricity you have produced
The kit includes the charging station with a beta type Stirling engine, the electric car, and an educational, full-color 32-page manual
To learn more, view some sample pages of the manual

~or~
Sustainable Earth Lab Kit
The kit is organized into five main sections: renewable energies, natural resource usage, climate change prevention, waste and water management, and energy conservation. Exploring these topics by doing hands-on experiments and seeing real results helps young scientists attain a solid grounding in these often abstract and intangible concepts
Includes a total of 40 fun and educational experiments
Construct a miniature water treatment plant and learn how substances in unnatural concentrations can pollute habitats and harm life
Manufacture recycled paper and plastic
Get an understanding of the rapid growth in world population
Explore the causes and consequences of the greenhouse effect with carbon dioxide tests
Experiment with heat transfer and insulation
Build devices to explore wind power, water power, and passive and active solar power technology
Become an "energy detective" and track down wasteful uses of energy at school and in your home
The full-color, 48-page manual guides your experiments and energy conservation activities

~or~
Candy Creator Lab Kit
Inside this kit is a scientific candy wonderland including the special tools and recipes you need to make fifteen different types of candy
You can make molded chocolates, lollipops, gummy shapes, caramels, marshmallows and much, much more
Learn the science behind each candy as you progress through the experiments
Use the plastic molds, metal shape cutters, candy thermometer, spatula, dipping fork and various other tools to form and coat your candies
Finish them with foils, paper cups, sticks, wrappers, and labels
The 16-page illustrated book provides instructions, recipes and scientific explanations
This kit does not contain any food items - ingredients must be purchased separately, giving you control over the ingredients you use

Shipping Note: Eligible for shipping to all 50 states
Warranty: 90 Day Woot Limited Warranty
Specs
In the box:
(Choose your kit)
Thames & Kosmos Stirling Engine Car and Experiment Kit
Age Range:
12+
Additional Items Needed:

(1) AAA Ni-MH 500-mA Rechargeable Battery

(1) Bottle of Rubbing Alcohol
Warning: Only for use by experimenters over 12 years of age. Use only under strict supervision of adults who have familiarized themselves with the safety measures described in the experiment manual. Keep children and pets away from the experiment area. Parts of the Stirling engine can get very hot while in operation - do not burn yourself. Before pointing the generator toward the sun, or when refilling the alcohol burner, be absolutely sure to let the hot parts cool off. When adjusting the parabolic mirror, use the adjustment rod and never look directly into the sun (follow the instructions in the manual.)
Thames & Kosmos Stirling Engine Car and Experiment Kit includes:
(1) Parabolic Reflector
(1) Stirling Engine Module
(1) Electric Car
(1) Mirror Mount
(1) Base
(1) Cable
(1) Burner
(1) Meter
(1) Sighting Rod
(1) Pipette
(5) Screws
(1) Adaptor
(1) Manual
~or~
Thames and Kosmos Sustainable Earth Lab includes:
(1) Die-Cut Cardboard
(1) Paper Sheet
(1) Thermometer
(1) Motor
(1) Solar Cell
(1) Compass
(1) Magnifying Lens
(1) Impeller Wheel
(1) Drive Axle
(1) Wooden Stick
(1) Aluminum Cup
(1) Clothespin
(1) Water Filter Column
(1) Bag of Garden Cress Seeds
(1) Petri Dish
(1) Thick Copper Wire
(1) Ice Cube Tray
(1) Measuring Cup
(1) Balloon
(1) Fabric Netting
(1) Funnel
(1) Black Paper
(1) White Paper
(1) Battery Clip
(1) Spool of Wire
(1) Sandpaper
(1) Drinking Straw
(1) Polystyrene Disk
(1) 48-Page Experiment Guide
Additional items needed include common food ingredients, office supplies, and kitchen utensils
~or~
Thames and Kosmos Candy Creator Lab includes:
(1) Forked Tool
(1) Flat Stirring Tool
(1) Pick Tool
(1) Chocolate Egg Mold
(1) Small Shape Cutter, Flower
(1) Small Shape Cutter, Diamond
(1) Dipping Fork
(1) Set of Small Baking Cups
(1) Sugar Spatula
(1) Set of Sticks
(1) Candy Thermometer
(1) Gummy Candy Mold, Plastic
(1) Chocolate Mold, Plastic
(1) Set of Plastic Wrappers
(1) Set of Aluminum Foil Sheets
(3) Sticker Sheets
Sales Stats
Speed to First Woot:

5m 10.553s
Last Wooter to Woot:

f50vs911
Purchaser Experience
7%

first woot

5%

second woot

23%

< 10 woots

24%

< 25 woots

39%

≥ 25 woots
Purchaser Seniority
10%

joined today

3%

one week old

0%

one month old

10%

one year old

78%

> one year old
Quantity Breakdown
78%

bought 1

12%

bought 2

11%

bought 3
Percentage of Sales Per Hour
| | | | | | | | | | | | | | | | | | | | | | | | |
| --- | --- | --- | --- | --- | --- | --- | --- | --- | --- | --- | --- | --- | --- | --- | --- | --- | --- | --- | --- | --- | --- | --- | --- |
| | | | | | | | | | | | | | | | | | | | | | | | |
| 12 | 1 | 2 | 3 | 4 | 5 | 6 | 7 | 8 | 9 | 10 | 11 | 12 | 1 | 2 | 3 | 4 | 5 | 6 | 7 | 8 | 9 | 10 | 11 |
Woots by State
zero wooters wooting
lots of wooters wooting
Top Comments
What are Top Comments?
Top Comments are discussion forum posts we have deemed worthy of your time. Listen, we get a lot of comments, and most of the time, it's pretty forgettable stuff; but sometimes you rise to the top like butterfat in milk. We don't recommend you base your self-worth on how often we feature your comments, but we don't expressly forbid it either.
join the discussion (3 comments)