Disney The World Of Knowledge 4-Pack Bundles
Limit 6 per customer
Hurry only 1 left!
add to cart
Tell your child that a 60 page book will let them cheat at Injustice: Gods Among Us and they'll read that thing cover to cover, twice. Tell them a 60 page book will teach them how to download free music and they'll even take notes! But tell them it'll help them learn about science and machines and dinosaurs and such? You know what, they'll probably read that too.
Because kids actually love to learn. L. O. V. E. It's just that grown-ups make everything so DULL, right? And that's why the Disney World of Knowledge 4 Pack Bundle is just such a good choice.
First, they'll offer your child a wide variety of subjects they can learn from. Second, they'll make those subjects interesting, be it explaining mollusks or presenting the process by which the earth was formed. And thirdly, they'll be doing it all after seeing the name "Disney" on the top of the book.
You know, the company that makes all those movies full of those songs they keep singing? Trust us, until they discover skateboards, hip hop and electric guitars, Disney will be as cutting edge pop culture as it gets.
Pack #1: Science, Machines, Plants, and People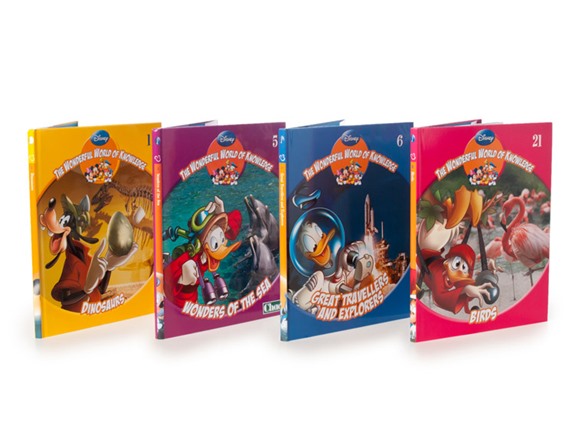 Pack #2: Dinosaurs, Wonder of the Sea, Travellers, Birds
Pack #3: Earth, Human Body, Atlas, Insects and Spiders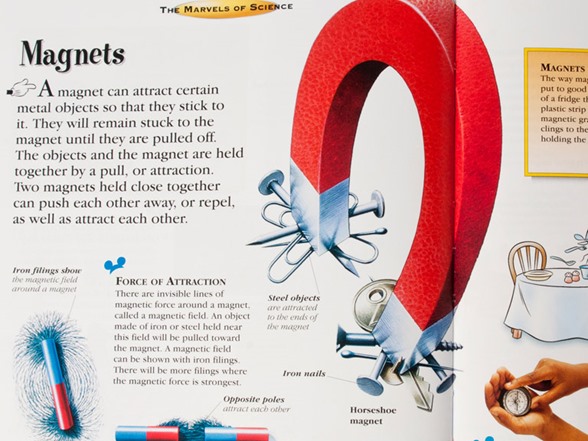 Close-up of actual page!
Close-up of another actual page!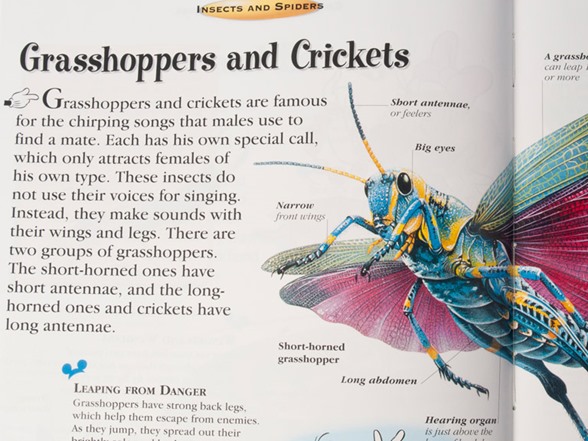 Close-up of another actual page!
Features
Recommended Ages: 7 - 12 Years
The fabulous Disney Wonderful World of Knowledge series takes you and your young readers on a fantastic journey. From visiting planets in outer space to traveling back in time, and finding out about Dinosaurs and how prehistoric man lived. These wonderfully illustrated and colorful books are both educational and fun. Parents, grandparents and children will enjoy sharing a true family experience with this beautifully bound hardback collection.
Hardback covers
Each book is 60 pages (includes 4 end pages)
Choose from three 4-pack bundles covering numerous subjects:

Pack 1:
#8 The Marvels of Science - To be a scientist, all you have to do is begin to wonder about why things happen the way they do. What makes the world go around? What keeps our feet on the ground?
#10 How Machines Work - Machines work for us to make life easier. The wheel - a wonderful simple machine that rolls along smoothly - is a machine. So is a jumbo jet, which is really thousands of machines linked together to speed us around the world.
#15 Plants Are Amazing - We couldn't live without them, because they make the air fit for us to breathe. We eat them, wear them, build homes with them and burn them to make the energy to power our lives. Plants are truly humankind's best friends.
#19 Famous People - People shape the world. Kings and queens, scientists and soldiers, presidents and prophets have changed the way we live, how we think, and what we believe. Every country has proud stories of heroes and heroines who made a difference
Pack 2:
#1 Dinosaurs - Long before humans appeared, reptiles called dinosaurs roamed and ruled the Earth. Theirs was a very different world from ours, and many different types of dinosaurs learned to live among the thick forests and on the vast plains
#5 Wonders of The Sea - There is more sea than land on our planet and it is home to many amazing creatures. Along the beach there are mollusks and crabs. Out at sea live spiny lobsters, creatures with eight long arms and fish with wings.
#6 Great Travelers And Explorers - People have always been curious about the world out of sight, over the horizon. Explorers and traders took the first journeys, bravely finding routes across dangerous lands and uncharted seas.
#21 Birds - All over the world, the sight of graceful wings and the chorus of birdsong is a pleasure. There are over 9000 species of birds, from waders to songbirds, many of which have their own special habits and characteristics.
Pack 3:
#2 Planet Earth - Millions of years ago a huge ball of very hot rock spun around the Sun. Gradually it cooled down, When a crust formed, hot gases burst through it, turned into air, and clouds and water formed. Finally, living things appeared. Our Earth had begun its life.
#3 The Human Body - Built on a framework of bones, which are stronger than steel, is the most complicated of all machines - your body. It can breathe, smell, and taste. It can feel, talk and walk. It eats, drinks and thinks. It can even mend itself when it is damaged.
#7 Atlas of the World - Seven continents, thousands of islands, more than 180 countries: it's all on the map! Maps tell us where to find places and what to expect when we arrive. They are pictures of the world that are full of fascinating information.
#9 Insects and Spiders - There are more types of insects than of all other animals put together. Among them are fierce hunters and masters of disguise. There are insects that sting, bite and poison. Spiders and their relatives can also have deadly ways of catching prey and defending themselves.
Shipping Note: Eligible for shipping to all 50 states
Warranty: 90 Day Woot Limited Warranty
Specs
Book Bundles
Individual Book Dimensions:
8" x 10"
Number of Pages:
60 (including 4 end pages)
Cover Type:
Hardback
Publisher:
Paperview Europe LTD.
Year of Publication:
2009
Country of Origin:
Spain
In the Box:
Choose a bundle pack, or choose them all:
Disney - The Wonderful World of Knowledge - Bundle Pack 1 includes:
(1) #8 The Marvels of Science
(1) #10 How Machines Work
(1) #15 Plants Are Amazing
(1) #19 Famous People
~OR~
Disney - The Wonderful World of Knowledge - Bundle Pack 2 includes:
(1) #1 Dinosaurs
(1) #5 Wonders of The Sea
(1) #6 Great Travelers And Explorers
(1) #21 Birds
~OR~
Disney - The Wonderful World of Knowledge - Bundle Pack 3 includes:
(1) #2 Planet Earth
(1) #3 The Human Body
(1) #7 Atlas of the World
(1) #9 Insects and Spiders
Sales Stats
Speed to First Woot:

5m 5.662s
Last Wooter to Woot:

wopowerhouse36
Purchaser Experience
3%

first woot

4%

second woot

18%

< 10 woots

25%

< 25 woots

50%

≥ 25 woots
Purchaser Seniority
2%

joined today

0%

one week old

2%

one month old

10%

one year old

86%

> one year old
Quantity Breakdown
23%

bought 1

9%

bought 2

68%

bought 3 or more
Percentage of Sales Per Hour
| | | | | | | | | | | | | | | | | | | | | | | | |
| --- | --- | --- | --- | --- | --- | --- | --- | --- | --- | --- | --- | --- | --- | --- | --- | --- | --- | --- | --- | --- | --- | --- | --- |
| | | | | | | | | | | | | | | | | | | | | | | | |
| 12 | 1 | 2 | 3 | 4 | 5 | 6 | 7 | 8 | 9 | 10 | 11 | 12 | 1 | 2 | 3 | 4 | 5 | 6 | 7 | 8 | 9 | 10 | 11 |
Woots by State
zero wooters wooting
lots of wooters wooting
Top Comments
What are Top Comments?
Top Comments are discussion forum posts we have deemed worthy of your time. Listen, we get a lot of comments, and most of the time, it's pretty forgettable stuff; but sometimes you rise to the top like butterfat in milk. We don't recommend you base your self-worth on how often we feature your comments, but we don't expressly forbid it either.
join the discussion (9 comments)