Beauty is in the eye of the View-holder.
Oh, no! That thing we had here sold out! So out of our desperate attempt to be rich love for giving you options, we've added a bonus sale for today. Consider it a gift to us from your wallet to all of you who were hoping for something like this. This is your chance to help us look good to our bosses get a little something for yourself, okay? Thank you You're welcome.
When someone asks, "Who are you wearing?" tell them, "Magformers."
Let 'em get it out of their systems early.
Realistic
It's not about what you can build. It's not about what you can't build. It's about WHERE you build. In reality. That's why blocks like these are cool.
All good things take time, my child. Rome wasn't built in a day.
The Right Home
Don't look at it as a forever purchase. Look at it as the kind of dollhouse you can flip for a profit.
Lincoln Logs: they're even cooler than you think. Seriously. Come read their history.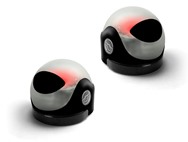 These bots are easily influenced by your child, so make sure you keep an eye on the little rascals.